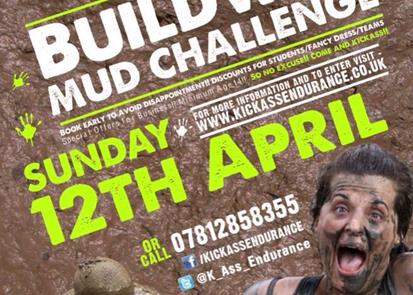 PLT Trainer Steve Price and his wife Angie have definitely got the fundraising bug, as if the Firewalk Challenge the week after in April wasn't enough, to help them loosen up they have just entered themselves into the Buildwas Mud Challenge on Sunday April 12.
The run is organised by Kickass Endurance events who have designed a hardcore 10k obstacle course that will test Steve, Angie's and the rest of the competitors, vigour, endurance, willpower and team building. Watching footage from a previous Mud Run, you can clearly see the solidarity among the competitors, as they fall, slip, slide, jump, crash through the ever increasing glacial mud baths and obstacles they encounter. Despite the freezing conditions, the smiles and laughter were infectious. Angie is doing the challenge as a birthday present to herself – it isn't a spa but there will be plenty of mud baths along the way!
The Buildwas Mud Challenge will be taking place on Sunday 12 April, 10am to 3pm and we wish all the competitors, especially our very own Steve and Angie, the best of luck – probably best not to do this in the mankini Steve!