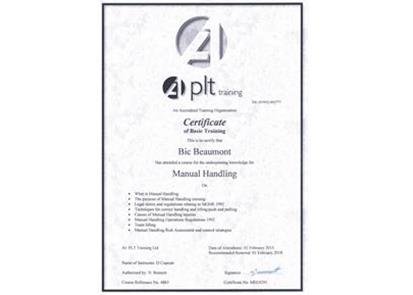 When people hear the words "manual handling training" mentioned, I think they will be picturing being taught how to pick up a box correctly, well more or less. Well Bic, PLT Head of Marketing, could also be forgiven for thinking this as her previous experience, when she went on a course a few years ago, was literally being shown how to pick up a box and put it on a pallet stacker. So when Bic was told she was attending a Manual Handling course, having not long started at PLT Training, she wondered whether it would be in a similar vein. How wrong she was! In fact this course highlighted that Manual Handling was not about how to pick up a box, it was first and foremost about the individual and their back, protecting the individual and giving them ownership.
Bic's trainer for the day was Dave, who through a mixture of teaching methods and visual aids (video, demonstrations, presentation, group interaction, case studies) took everyone through a morning of discovery – anatomy and physiology; the causes of juries; solutions and alternatives to everyday manual handling problems; team lifting; plus with more than a third of workplace injuries caused by incorrect manual handling, the health and financial implications towards the employee/employer which became a hotly debated point among the group! It made us as a group look at manual handling with fresh eyes and moving forward better spines.
We are pleased to say that everyone who attended the course plus those who carried onto the Train the Trainer: Manual Handling passed with flying colours. Well done everyone!